During its participation in Siggrapgh 2022, NVIDIA presented releases that will be of interest to researchers and innovation companies.
NVIDIA presented some releases at Siggraph 2022 , the graphics computing and interactive techniques conference and exhibition taking place in Vancouver Canada.
Marcio Aguiar , director for the business division of NVIDIA Latin America, pointed out that the company is very focused on Artificial Intelligence and the virtual world, so it has new neural networks with graphic improvements that will help customers to participate in a better way. in the metaverse .
It also extended a new software development platform, omniverse, to develop in the metaverse and announced ICE, a platform for creating avatars.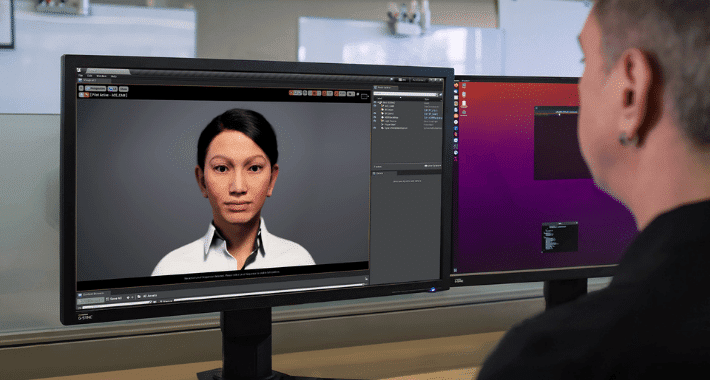 What's new in neural networks
The neural networks for the graphic part had not been seen before; now NVIDIA adds it and increases the creative power of artists. The creative and entertainment market are the most benefited.
Aguiar noted that NVIDIA has a new DLSS that promises to speed up graphics and enhance 3D scenes through powerful visualization and Artificial Intelligence (AI) tools .
Also through Artifex GPUS, it will do graphic action through AI techniques so that viewers can enjoy totally virtual scenes.
Aguiar recalled that the three pillars of graphical neural networks are: 3D Connect Creation, to create objects and spaces virtually in the metaverse; the second is the development of animation, audio, gestures for a virtual world with photo-realistic and very human characteristics.
The third pillar is a lens with advanced holographic qualities that NVIDIA created in collaboration with universities to optimize the angle of view through lighter lenses.
The company also presented the results of six investigations on the simulation of virtual environments, all of them carried out over several years with the purpose of bringing knowledge and promoting better work in the field of graphic animation.
Developer Announcements
For developers and artists, NVIDIA presented two SDKs, the first is Kaolin WIP, with which you can simulate images, volumes and give a better three-dimensional representation to designs thanks to the inclusion of Artificial Intelligence .
The second SDK is NeuralVDB, an open programming language to accelerate the neural network , so that an artist has a better understanding of images without losing the graphic quality of his work and can transmit it more easily.
Also, NVIDIA updated Omiverso, the platform where companies can develop their metaverses and launch new campaigns and sales strategies, create products, among others.
Part of the Omniverso improvements seek to meet the computational demand of customers and combine them in smart cities.
Similarly, the company showed its progress on the USD (Universe Without Description) coined by Pixar since 2015; the company wants to develop new USD-based languages ​​to bring more computing power and add more processing features to GPUs.
There is already a roadmap for the following years with tools that will be enabled in the Omniverse portal for the benefit of all graphic artists.
Eight new features in NVIDIA Omniverse
There are new features within Omiverse :
Improved the development kit
Through Create they will allow you to create 3D scenarios
Create XR is for more realistic interactions
Audio2face will allow avatars to speak
These will have a more human posture and even change the expressions on the face
There are connection modules with the engines classes, from the main creators of 3D scenarios
Connections with other metaverses
Deepsearch for artists to add more human features to their avatars
Avatars will be open to the scientific community to create avatars capable of interacting with humans.
According to Aguiar, Siggraph is an event that emerged in 1993, just the year Jurassic Park came out on screens, and the Internet was launched; Although there was not much interaction with virtual environments then, NVIDIA has been actively involved ever since to bring new concepts to market, from IoT technologies, 3D, augmented and virtual reality, Artificial Intelligence and robotics.