Last week a Chilean consultancy made public the first virtual immersive city in the country. Their business, they say, will be to attract brands to install stores and physical showrooms in that space. "The real companies, the ones that succeed, are those that take on these challenges," says its co-founder.
It looks like a Times Square, with buildings, screens, streets and lights. But is not. It is the first Chilean city in the metaverse. It doesn't have a name yet, but the developer says they'll come to a decision soon.

The character can freely walk the streets, enter buildings, ride elevators, and even window shop in clothing stores. If the real person extends his arm, the icon in this virtual metropolis extends his arm. This is how this new immersive technology works that, in recent years, has grown like wildfire.

metaJungle is called -what according to its founders- is the first national consulting firm specialized in the metaverseand the person in charge behind this new virtual city. "People say a picture is worth a thousand words, but an experience is worth a thousand pictures. That's why we decided to do it", says Miguel Pastenes, former technology director of Accenture and co-founder of the firm. "I learned to code at 4 years old," he adds.

It was last year when the publicist Claudio Guti and Pastenes decided to open a company focused 100% on this new technology. The former had a direct marketing firm -Lionhead- and the latter another technology solutions firm (Hackmonkeys). They realized that both companies had names of animals, so they decided to name this new project Metajungle.

"It all started when I read a news story. That caught my interest. Then someone brought someOculus Quest (Facebook's virtual reality device) from the United States. I tried them on and there I said that this was the future. I contacted Miguel and in just one day we made the decision. So we set up the company and put resources into it," says the CEO.

"We immediately ordered the Oculus from the United States, we disassembled them to understand the technology, what was behind it, what platforms were being used, how far we could demand it. We had many months of research, of international forums, of talking, of investigating", says Guti.

Today they have more than 25 people working exclusively on this project. They have architects, 3D designers, developers, engineers, and lawyers from countries like Venezuela, Colombia, and Argentina.
From the metaverse to NFTs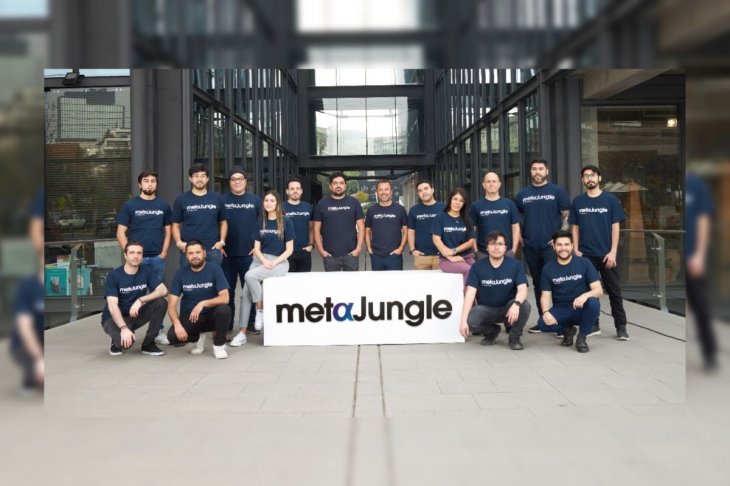 The founders of metaJungle are outlining five lines of business. The first is the city -which is the most advanced and launched first-, which allows you to explore the world of real estate, marketing and immersive retail. The second aspect is education.

"The fact that you live the experience makes you grasp faster, and therefore, learning is much faster and deeper", says Guti. Thirdly, there is tourism, which according to the general manager "will seek to enhance the country's image." Then, they will explore the edge of entertainment with movies, concerts and alliances with television channels. Last, and least developed, is the health industry.

"There are already some prototypes that are occupying certain universities for future surgeons, so that they live the experience of being able, for example, to install a prosthesis in a knee", adds the co-founder.

About the city, adds Guti, "the idea is that there are shops, parks, concerts and more. We are going to give it life with a business model behind it", says the CEO.

Last week they officially launched their first business line, which seeks to attract brands installed in Chile who want to buy square meters in their city and build stores or corporate buildings. "You will be able to go to a store, see some shoes and buy them. Days later they can really come to your house", says Guti.
-We currently live in times of uncertainty, where brands prefer to invest in more tangible assets. Do you think this will affect the metaverse industry?
-For the leaders of companies that have a business perspective, a crisis like the one we are experiencing is not an obstacle to getting involved in this type of thing. There are companies that will surely take a more traditional decision, which is respectable, but the real companies, the ones that generally succeed, are those that take on these challenges.

-What does a company gain by venturing into this technology?
-There is a huge opportunity cost, because it is going to increase in value every day. The opportunity is given by a brand positioning at the forefront. It helps you in engagement and loyalty with your customers, because you can create different experiences. And it's also transactional, because you can do business in the metaverse itself.

They already have two clients: a machinery company linked to a well-known national entrepreneur (which they prefer to keep secret), and a local firm that produces NFTs.

The latter, Guti advances, was founded in Cambridge by a Chilean (Alfonso Ovalle) and will soon launch a pre-sale of 5,000 exclusive NFTs that will allow discounts in a series of items, such as restaurants, opticians and hotels.

"Regulation is important"
By 2026, 25% of the world's population will spend at least 1 hour a day in the metaverse. That projection was made by a recent study by Gartner, an information technology research and consulting company based in the United States. And it is that, just like in the real world, these types of immersive experiences allow you to attend concerts, buy houses, walk the streets and even go to church. Addiction, as with video games, is knocking on the door of different fans.

All this, experts project, generates a moral debate about whether in the future people will be able to distinguish the real and digital world.

-Do you think that, in the future, there are profound risks with this technology? For example that someone wants to spend more time in the metaverse than in real life?
-Yes, there is a risk, but like all things. That is why regulation is important. It is super important to know what is the age allowed for this type of technology. There is also the issue of digital identity theft: there can be an avatar with my name and do millions of things in these spaces. That should be regulated and at the technology level it can be managed.

But yes, as in all things, it obviously has a B side. I'll be honest, the first time I put on the Oculus I thought of my grandson. I said: "Wow, how scary, because this world is so beautiful, so pleasant, that it makes you want to stay there".